Loyalists, republicans or the Army could have possessed ammunition fired at Ballymurphy, ballistics experts said.
Paramilitary groups were able to obtain military-grade bullets at the time of the shooting dead of 10 people in West Belfast in August 1971, a witness told the coroner's court in Belfast.
Ballistics expert Anne Polland, from Forensic Science Northern Ireland (FSNI), received the information from police intelligence.
She read out a joint report from specialists for the coroner, Ministry of Defence and victims' families based on an examination of injuries caused to the victims.
She said: "It was military-produced ammunition.
"Paramilitary groups at that time were able, by whatever means, to get their hands on weapons and ammunition which was military-sourced.
"There is a possibility that they may also have had some of this type of ammunition in their possession."
The senior scientific officer said she had sought and received the information from police intelligence and had not checked its veracity.
"We just wanted to cover all options as to why these guns may have been in Northern Ireland at the time."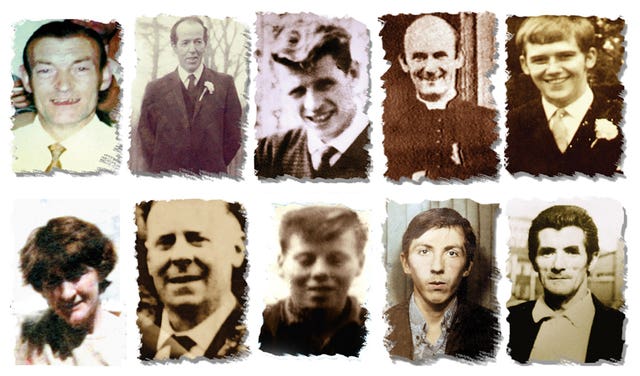 Claims loyalists may have been involved in the killings have been questioned during earlier hearings of the inquest.
Ms Polland was challenged by a barrister for the deceased, Fiona Doherty, as to why she had sought the information.
The victims were unlikely to have been shot from close range, her evidence given to the inquest also showed.
Joan Connolly, aged 44 and a mother-of-eight, was shot on waste ground near the Henry Taggart Hall Army base.
The view from the base may have been impeded by fences, the witness told the court.
Daniel Teggart, Noel Phillips and Joseph Murphy were also killed there amid disturbances following the introduction of internment without charge.
Ms Connolly was hit by three or four bullets in the shoulder and leg, rounds consistent with having been discharged from a military-type rifle.
Mr Murphy was struck in the thigh by a rifle bullet.
Mr Philips was believed to have been hit in the neck by a slower 9mm bullet, which was made of jagged metal.
They were common to many handguns and submachine guns but were consistent with military ammunition and may have been available to paramilitary groups, the ballistics expert told the inquest.
Another witness, firearms specialist Ann Kiernan for the family of Mr Philips, said the shooter had been to his front as the victim was kneeling or leaning over on the ground.
She used a mannequin to illustrate bullet entry and exit points.
She said it was most unlikely the shot came from the army base because of the obstacles in the way.
An MOD expert, Mark Mastaglio, said it was not possible for him to have been shot in the neck if he was lying on the ground.
Mr Teggart, a father-of-13, was struck by up to 11 bullets in the shoulder, back, arms, legs and hip.
He suffered injuries consistent with high velocity rifle-calibre ammunition. No bullets were recovered.
Father Hugh Mullan and Francis Quinn were shot near Springfield Park on 9 August 1971.
Another ballistics expert, Jonathan Greer, said Mr Quinn's wounds did not support him sustaining a direct shot.
The bullet may have passed through Fr Mullan before it hit him.
Small amounts of lead were found on Mr Quinn's hands, meaning he was in close proximity to a discharging weapon.
Normally more lead would have been discovered had he fired a weapon himself, a report from the time read out to the inquest said.